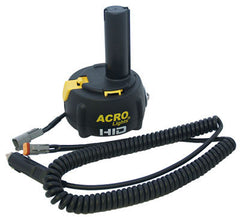 CARO Lights X990 Car Adapter
This adapter is used in all ACRO Lights model X990 series search lights to allow it to be run from any 12 or 24 volt DC power source .It is assembled with a detachable cord and several cord options are available on a special order basis from ACRO Lights. Email us with any questions.
ACRO Lights part number 990-1304
This part is assembled by ACRO Lights and ships direct from them within 3 days of ordering. Assembly and testing is done  by ACRO Lights.  See our other listings for more ACRO Lights products.