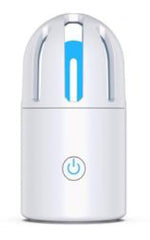 UV Desktop Disinfectant light
This UV Disinfectant light is compact and perfect for small spaces like home office desk, small work areas or any application limited on space. It can be placed in a closet or cupboard to disinfect stored items, toys, phones or any item in it's range.
Simple to charge with a standard 5V USB source.
When powered on, you have approx 30 seconds to leave the area and it will turn itself off after 15 minutes.
3W 253mn.   measures 4 inch tall and 2 inch wide.
Related Products