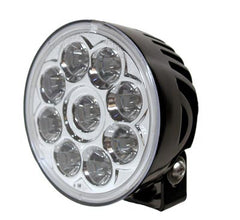 A3840 4" 1400 lumen LED
Inventory Available
A3840 4" 1400 lumen LED
4
A3840  high output LED driving light
In it's compact 4 inch size
this LED offers over 1400 effective lumen of light.
The projected pattern covers approximately
300 feet in distance and 75 feet in width.
In a 12 volt application the A3840 only draws
1.4 amp and can be run on 9 to 32 volts DC.
This is more powerful than a 100 watt halogen
that would draw almost 8 amps.
The lamp life is estimated at 40,000+ hours.
EMI and IP67 Compliant
ECE and SAE Compliant