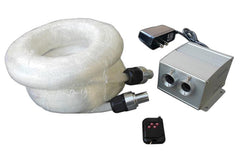 Fiber optic 600 star ceiling kit
Inventory Available
Fiber optic 600 star ceiling kit
0
This kit is designed for larger room star ceiling type applications. It is one of the brightest LED light sources on the market. The illuminator features an installed twinkle wheel that creates an incredible shimmering effect. KEY chain remote control is also included with this kit. This kit uses LED technology, so you won't have to worry about changing out the bulb as LED's have a very long life and are very energy efficient.

KEY CHAIN REMOTE CONTROL ; Remote can power the unit on/off as well as turn the twinkle wheel on/off. It also offers a dimming feature. You can dim up to 8 levels--a feature not found with other kits on the market.

Each kit ships two 300 strand bundles. Each bundle has 220 0.75mm fiber optic cables, 70 1.0mm and 10 1.5mm end lit fiber optic cables at 16'4" length.

The light source and white twinkle wheel is mounted in a ducted housing.
If you would like to create a star ceiling with three different sizes of stars and cover a about 70 to 100 square feet area, we suggest that you purchase this model.

What makes it 3 Stars?
Each 300 Strand bundle has 3 different diameter size fibers. Which when put in the ceiling or other application makes 3 different size stars. The bigger the fiber proves the brighter the light output.

Kit Includes:

* Dual Head LED Illuminator (Two 5 Watt LEDs) Dimension: L 7.6" x W 4.1" x H 2.9"
* 12VDC transformer with US Plug.
* Built in Twinkle wheel
* Remote control with on/off, start/stop wheel and up/down dim 8 levels.
* 600 strands 16'4" long, 440 - 0.75mm, 140 1.0mm, 20 1.5mm (two bundles of 300 strands)